Do you know beers which taste of chestnut, banana, caramel,
even of whisky or chocolate?
Welcome! My name is Barbara Teichmann and my passion is "beer".
I invite you warmly to accompany me on an extraordinary journey of pleasure. Let me carry you off into refreshing new worlds of beer and exciting beer stories. You will discover in the beer everything you so far have trusted to be in wine.
Enjoy the diversity of perfumes, flavours, colours and new tastes. You will smile about exciting beer stories and be astonished about inspiring ideas of lateral thinking beer brewers. Experience with me a broad range of fine and unconventional specialty beers, from regionally familiar to international and surprisingly exotic.
I´m looking forward to seeing you!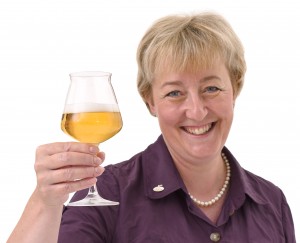 Your´s Barbara Teichmann, the "BierVersteherin®"
graduated sommelier of beer,
free-lance and independent of breweries
The Beer Expert organizes:
Beer Tastings "Cookery" with beer, seminars of beer
In German, Italian and English
For companies and restaurants
For institutions and associations
For professionals und private consumers