On the way with the "BierVersteherin"
"The good old times, when the girls were smart, the guys strong and the beer dark", in this way life of the electoral Bavaria has been described. When the sky was typically white-blue, there was a 1-hour-city walk in the old town of Wasserburg with excursions into history and insights into Wasserburg's history of beer with Barbara Teichmann. Afterwards all 15 participants were eager for the "Bierversteherin" and the variety of the beer's taste.
In the "Cantina" of Barbara Teichmann then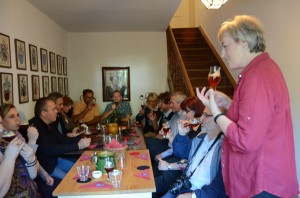 four different beers were on the program of the tasting. Colour, taste, smell and consistency of the foam had to be described.
Is the body slim? Is the beer fruity?
Even at the second sample, the noses went deeply into the glasses. Speculations were made, experiences exchanged and questions asked. As culmination the question had to be answered, if chocolate could go well with beer. A clear "yes" was the answer and provoked the participants to learn even more about the variety of the types of beer.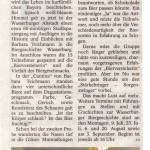 The group would have liked to stay longer to benefit from the entertaining and charmingly presented experiences of the beer expert. But in an instant the hour about the "Stärkebringer – Sorgenzwinger" (the one that brings strength and defeats worries) was gone.
This leaves you wanting more … (see "appointments")
(Source: OVB, Wasserburger Zeitung, "Stadtführungen zum Thema Bier", Tuesday 3 July 2012, Original in German language). In order to open a copy of the article, please click on the right onto the image file.